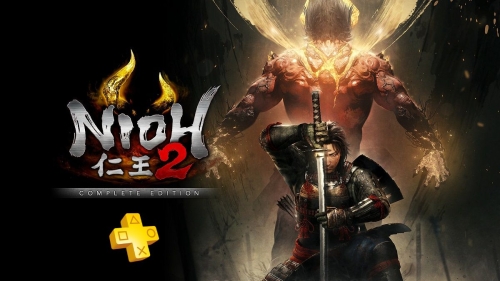 Nioh 2
Estos son los títulos confirmados de PS Plus para noviembre
Noviembre está a la vuelta de la esquina, y esto significa que tendremos tres nuevos juegos totalmente gratis para disfrutar en nuestra PlayStation. Aunque faltan todavía unos días para que lleguen, ya sabemos de qué entregas se trata, y estamos hablando de tres juegazos totalmente diferentes entre sí. ¡Atento!
Mensaje de Twitter
Nioh 2, Lego Harry Potter Collection (exclusivo PS4) y Heavenly Bodies son los juegos que podrás jugar sin importar a qué plan estés suscrito y estarán disponibles del 1 de noviembre al 5 de diciembre. ¡Que los disfrutes!
Listado de juego de PS Plus gratis de los últimos meses
¿Buscas todos los juegos gratis que han ido apareciendo mes a mes en PS Plus? Aquí encontrarás un listado completo de los últimos meses. Poco a poco el catálogo de juegos de PlayStation Plus nos ha ido sorprendiendo con grandes joyas. Algunas de esas obras que todo amante de los videojuegos debe tener en su lista y en su amplia colección de videojuegos.
Noviembre 2022: Nioh 2, Lego Harry Potter Collection y Heavenly Bodies
Octubre 2022: Hot Wheels Unleashed, Injustice 2 y SUPERHOT
Septiembre 2022: Need For Speed Heat, Granblue Fantasy Versus y Toem
Agosto 2022: Tony Hawk's Pro Skater 1+2 Deluxe, Yakuza: Like a Dragon y Little Nightmares
Julio 2022: Crash Bandicoot 4: It's About Time, Man of Medan y Arcadegeddon
Junio 2022: God of War, Naruto to Boruto: Shinobi Striker y Nickelodeon All-Star Brawl
Mayo 2022: FIFA 22, Tribes of Midgard, Curse of the Dead Gods y Twogether: Project Indigos
Abril 2022: Hood Outlaws & Legends, SpongeBob SquarePants: Battle for Bikini Bottom – Rehydrated y Slay the Spire
Marzo 2022: Ghostrunner, ARK: Survival Evolved, Ghost of Tsushima: Legends y Team Sonic Racing
Febrero 2022: UFC4, Planet Coaster y Tina Chiquitina Asalta la Mazmorra del Dragón
Enero 2022: Persona 5 Strikers, Deep Rock Galactic y DiRT 5
Diciembre 2021: Godfall, Mortal Shell, Lego DC Super Villains e Ion Driver
Noviembre 2021: Knockout City, First Class Trouble y Kingdoms of Amalur: Re-Reckoning
Octubre 2021: Hell Let Loose, Mortal Kombat X, PGA Tour 2K21 y Probe
Septiembre 2021: Hitman 2, Predator Hunting Grounds y Overcooked: All you Can Eat
Agosto 2021: Hunter's Arena Legends, Plant vs Zombies y Tennis World Tour 2
Julio 2021: A Plague Tale Innocence, Black Ops 4, Battle Grounds y The Five Covens
Junio 2021: Star Wars Squadrons, Virtua Fighter V, Operation Tango y Waves Out
Mayo 2021: Wreckfest, Battlefield V, Standed Deep y Waves Out
Abril 2021: Oddworld: Soulstorm, Days Gone, Zombie Army 4 y Jade's Ascension
Marzo 2021: Final Fantasy VII Remake, Far Point, Remnant from the Ashes y Maquette
Febrero 2021: Destruction All Stars, Control, Concrete Genie y Dawn of Fear
Enero 2021: Shadow of The Tomb Raider, GreedFall, Maneater
Diciembre 2020: Just Cause 4, Rocket Arena, Worms Rumble y Melbits World
Noviembre 2020: Sombras de Guerra, Hollow Knight Edición Corazón Vacío, Bugsnax y Melbist World
Octubre 2020: Vampyr, Need for Speed Payback y Massira
Septiembre 2020: Street Fighter V y PUBG
Agosto 2020: Call of Duty Modern Warfare 2 Campaign Remastered y Fall Guys: Ultimate Knockout 4
Julio 2020: Rise of the Tomb Raider, NBA 2K20, ERICA y Nubla 2 (PS Talents)
Junio 2020: Call of Duty: WWII, Star Wars: Battlefront 2 y Treasure Rangers (PS Talents)
Mayo 2020: Farming Simulator 19, Cities: Skylines, Treasure Rangers (PS Talents)
Abril 2020: Uncharted 4: El desenlace del ladrón, DiRT Rally 2.0 y Hollfraine (PS Talents)
Marzo 2020: Shadow of the Colossus, Sonic Forces y Hollfraine (PS Talents)
Febrero 2020: Los Sims 4, Bioshock: The Collection, Firewall Zero Hour y Aces of the Multiverse (PS Talents)
Enero 2020: Uncharted: The Nathan Drake Collection, Goat Simulator y Submersed (PS Talents)
Diciembre 2019: Titanfall 2, Monster Energy Supercross y eCrossminton (PS Talents)
Noviembre 2019: Nioh, Outlast 2 y Strikers Edge (PS Talents)
Octubre 2019: The Last of Us Remastered, MLB The Show 19 y Wizards Tourney (PS Talents)
Septiembre 2019: Batman Arkham Knight, Darksiders 3 y Deiland (PS Talents)
Agosto 2019: Sniper 4 Elite y WipEout Omega Collection
Julio 2019: Detroit: Become Human Digital Deluxe Edition, Horizon Chase Turbo y CoolPaintVR (PS Talents)
Junio 2019: Borderlands: Una colección muy guapa, Sonic Mania y Anyone's Diary (PS Talents)
Mayo 2019: What Remains of Edit Finch, Overcooked! y Timothy VS The Aliens (PS Talents)
Abril 2019: Conan Exiles, The Surge y Melbits World (PS Talents)
Marzo 2019: Call of Duty: Modern Warfare Remastered, The Witness y Melbits World DEMO (PS Talents)
Febrero 2019: For Honor y Hitman: The Complete First Season
Enero 2019: Steep y Portal Knights

PlayStation Plus, servicio premium de Sony
¿Qué es PlayStation Plus?
PlayStation Plus es el servicio online de suscripción para consolas PlayStation. Ya sea a través de una suscripción mensual o anual, podemos tener acceso a ciertas ventajas y por supuesto disfrutar de la vertiente online de juegos que así lo precisen. Al contrario que en PlayStation 3, en PlayStation 4 no podemos jugar vía online si no estamos suscritos a PlayStation Plus.
Con una suscripción a PlayStation Plus tendremos acceso a varios juegos gratuitos que Sony va anunciando mes a mes (aquí puedes echar un vistazo a las predicciones de cada mes), siempre y cuando sigamos suscritos al servicio. Por otro lado, PS Plus nos permite contar con descuentos exclusivos en PlayStation Store, la tienda digital de PlayStation 4. No sólo eso, PlayStation Plus también te brinda la posibilidad de tener hasta 100 GB de almacenamiento en la nube para tus juegos.
¿Cuánto cuesta PlayStation Plus?
Podrás comenzar tu suscripción a PlayStation Plus de varias maneras, ya sea mensual, trimestral o anual. A través de la página oficial de PlayStation tendrás disponibles las diferentes ofertas, además de descuentos más que interesantes en el propio servicio.
Suscripción mensual a PlayStation Plus: 8,99 euros
Suscripción trimestral a PlayStation Plus: 24,99 euros
Suscripción anual a PlayStation Plus: 59,99 euros
¿Pierdo los juegos gratis de PlayStation Plus si no renuevo la suscripción?
Como decíamos líneas atrás, una vez comenzada tu suscripción a PlayStation Plus tendrás acceso a los juegos gratuitos que Sony regala ese mes para PlayStation 4. En caso de que la suscripción caduque la misma, no tendrás acceso a las ofertas de PlayStation Store, el almacenamiento de 100 GB de espacio en la nube, así como a los juegos de PlayStation Plus. Podrás descargarlos desde PSStore en la sección 'Descargas', pero no podrás iniciarlos.
Noticias relacionadas