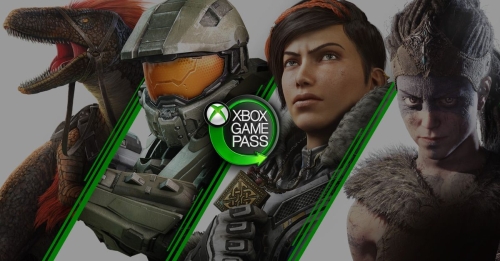 Game Pass
Xbox Game Pass:F1 2021 entre los nuevos juegos confirmados para la segunda quincena marzo de 2022
El mes de febrero acabó como uno de los más sorprendentes para los amantes de los videojuegos y el mes de marzo no iba a ser menos. Como de costumbre Microsoft a presentado los juegos que llegarán totalmente gratis a su servicio de Xbox Game Pass, siendo un total de 7 los que aterrizarán en esta plataforma el marzo 2022. Si bien en la variedad está el gusto, uno de los títulos de esta lista ha destacado por encima de los demás, ya que será a partir del 10 de marzo que llegará Marvel's Guardians of the Galaxy.
Mensaje de Twitter
Juegos Xbox Games Pass: Novedades, salidas y próximos juegos
Novedades de marzo 2022
Estos son los nuevos juegos disponibles en el servicio de suscripción mensual de Xbox.
The Dungeon Of Naheulbeuk: The Amulet of Chaos (Cloud, Xbox y PC) Disponible desde el 17 de marzo
Weird West (Cloud, Xbox y PC) Disponible desde el 31 de marzo
Zero Escape: The Nonary Games (Cloud, Xbox y PC) Disponible desde el 22 de marzo
Shredders (Cloud, Xbox y PC) Disponible desde el 17 de marzo
F1 2021 (Xbox) Disponible desde el 24 de marzo
Tainted Grail: Conquest (Xbox) Disponible desde el 22 de marzo
Norco (PC) Disponible desde el 24 de marzo
Crusaders Kings III (Xbox Series X|S) Disponible desde el 25 de marzo, en PC ya disponible
Far: Changing Tides Far: Changing Tides (Cloud, Xbox y PC) Disponible desde el 1 de marzo
Microsoft Flight Simulator (Cloud) Disponible desde el 1 de marzo
Lightning Returns: Final Fantasy XIII (Xbox y PC) Disponible desde el 3 de marzo
Lawn Mowing Simulator (Xbox One) Disponible desde el 10 de marzo
Marvel's Guardians of the Galaxy (Cloud, Xbox y PC) Disponible desde el 10 de marzo
Young Souls (Cloud, Xbox y PC) Disponible dedse el 10 de marzo
Abandonan el servicio en marzo
Madden NFL 20 (Salida el 31 de marzo)
Narita Boy (Salida el 31 de marzo)
Shadow Warrior 2 (Salida el 31 de marzo)
Nier: Automata (Salida el 15 de marzo)
Phogs! (Salida el 15 de marzo)
Torchlight III (Salida el 15 de marzo)
The Surge 2 (Salida el 15 de marzo)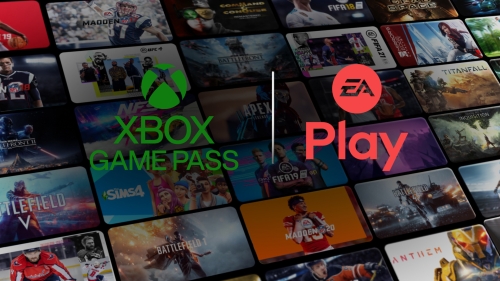 Xbox Game Pass - EA Play
Juegos de Xbox Game Pass confirmados para el futuro
Aquí encontrarás un listado completo y actualizado a agosto de 2021 con los juegos que estarán disponibles el día de su lanzamiento en Xbox Game Pass. Como sabrás, Microsoft conserva la promesa de llevar al servicio desde el día uno a su servicio de streaming todos sus juegos exclusivos. En la lista se incluyen también juegos third party que han confirmado su llegada.
A Plague Tale: Requiem
Atomic Heart
Contraband
Chorus
CrossfireX
Dead Static Drive
Exomecha
Eiyuden Chronicle Hundred Heroes
Eiyuden Chronicle Rising
Far Cry 6
Hello Neighbor 2
Life is Strange Remastered Collection
Lego Star Wars: The Skywalker Saga
Outer Worlds 2
Party Animals
Pigeon Simulator
Redfall
Replaced
Ruined King: A League of Legends Story
S.T.A.L.K.E.R. 2
Sable
Scarlet Nexus
Scorn
Shredders
Sniper Elite 5
Slime Rancher 2
Skatebird
Somerville
Starfield
The Good Life
The Gunk
Tom Clancy's Rainbow Six Quarantine
Trek to Yomi
Tunic
Warhammer 40K: Darktide
Way to the Woods
Xbox Game Pass:Listado completo de juegos disponibles
Aquí encontrarás un listado completo con todo el catálogo disponible con tu suscripción Xbox Game Pass. El listado incluye juegos disponibles para Xbox Series X|S, Xbox One, Android y PC.
Absolver
ACA NeoGeo Metal Slug X
A Plague Tale: Innocence
Age of Empires IV
Alan Wake
Alien Isolation
Alvastia Chronicles
Among Us
Aragami 2
Art of Rally
Ark: Survival Evolved
Ark: Survival Evolved: Explorer's Edition
Arx Fatalis
Assetto Corsa
Astria Ascending
Astroneer
Atomicrops
Back 4 Blood
Backbone
Balan Wonderworld
Banjo Kazooie: Nuts and Bolts
Banjo-Kazooie
Banjo-Tooie
Bard's Tale Remastered and Resnarkled
The Bard's Tale IV: Director's Cut
The Bard's Tale Trilogy
Batman Arkham Knight
Battle Chasers: Nightwar
Battlefield V
Battletoads
Beholder: Complete Edition
Blair Witch
Bleeding Edge
Blinx: The Time Sweeper
Bloodroots
Bloodstained: Ritual of the Night
Borderlands 2
Borderlands: The Pre-Sequel
Bridge Constructor Portal
Bright Memory Infinite
Brutal Legend
Bug Fables: The Everlasting Sapling
Call of the Sea
Carrion
Carto
Celeste
Children of Morta
Cities: Skylines
ClusterTruck
Code Vein
Control
Costume Quest 2
Craftopia
Crackdown 3
Creature in the Well
Cricket 19
Crimson Skies: High Road to Revenge
Cris Tales
CrossCode
Crown Trick
Darkest Dungeon
Darksiders: Genesis
Day of the Tentacle Remastered
DayZ
de Blob
Dead by Daylight
Dead Cells
Dead Island Definitive Edition
Death Squared
Deep Rock Galactic
Deliver Us The Moon (April 23rd, 2020)
Demon's Tilt
Descenders
Deus Ex: Mankind Divided
Destiny 2 expansions Forsaken, Shadowkeep, Beyond Light
Dishonored
Dishonored: Death of the Outsider
Dishonored 2
DiRT 4
Disneyland Adventures
DOOM
DOOM 1993
DOOM II
DOOM 3 BFG Edition
Doom Eternal
Double Dragon Neon
Double Kick Heroes
Don't Starve: Giant Edition
Dragon Quest Builders 2
Dragon Quest XI S: Echoes of an Elusive Age - Definitive Edition
Drake Hollow
Dungeon of the Endless
Eastshade
eFootball PES 2021 Season Update
Enter the Gungeon
F1 2018
Fable Anniversary
Fable II
Fable 3
Fallout
Fallout 2
Fallout 3
Fallout: Tactics
Fallout 76
Fallout 4
Fallout: New Vegas
Farming Simulator 19
Final Fantasy VII HD
Final Fantasy XIII
Final Fantasy IX
Final Fantasy X / X-2 HD Remaster
Five Nights at Freddy's
FIFA 21
Flynn: Son of Crimson
For the King
Forager
Forza Motorsport 7
Fractured Minds
Frostpunk: Console Edition
For Honor
Forza Horizon 4
Forza Horizon 5
Full Throttle Remastered
Fusion Frenzy
Galaga Legions DX
Garou: Mark of the Wolves
Gang Beasts
Gato Roboto
Gears of War
Gears of War: Ultimate Edition
Gears of War: Judgment
Gears of War 2
Gears of War 3
Gears of War 4
Gears 5
Gears Tactics
Goat Simulator
Golf with Your Friends
Gonner Blüeberry Edition
Gonner2
Grim Fandango Remastered
GreedFall
Grounded
Guacamelee! 2
Hades
Halo: The Master Chief Collection
Halo Infinite
Halo Reach
Halo 5: Guardians
Halo Wars: Definite Edition
Halo Wars 2
Halo: Spartan Assault
Haven
Hellblade: Senua's Sacrifice
Hello Neighbor
Hotshot Racing
Human Fall Flat
Hyperdot
Hypnospace Outlaw
I Am Fish
Ikenfell
Immortal Realms: Vampire Wars
Injustice 2
It Lurks Below
Jetpac Refulled
Just Cause 4: Reloaded
The Jackbox Party Pack 4
Journey to the Savage Planet
Kameo
Katana Zero
Killer Instinct
Killer Instinct Definitive Edition
Killer Instinct Classic
Killer Instinct 2 Classic
Kingdom Hearts HD 1.5 and 2.5 ReMix
Kingdom Hearts HD 2.8 Final Chapter Prologue
Kingdom Hearts 3
Knights and Bikes
Kona
Last Stop
Lemnis Gate
Lethal League Blaze
Levelhead
Lichtspeer: Double Speer Edition
Limbo
Lonely Mountains: Downhill
Lost Words: Beyond the Page
Marvel vs. Capcom Infinite
Marvel's Avengers
Mass Effect
Max: The Curse of Brotherhood
Microsoft Flight Simulator
Middle-earth: Shadow of War
Minecraft
Momodora: Reverie Under the Moonlight
Monster Hunter World
Monster Sanctuary
Monster Train
Moonlighter
MotoGP 20
Mount and Blade: Warband
Mutant Year Zero
My Time at Portia
Myst
Neon Abyss
Neoverse
New Super Lucky's Tale
Nier Automata - Become as Gods Edition
Night in the Woods
No Man's Sky
Nowhere Prophet
Nuclear Throne
Omno
Ori and the Blind Forest
Ori and the Will of the Wisp
Outer Wilds
Outlast 2
Outriders
Overcooked! 2
Oxenfree
Pandemic: The Board Game
Payday 2: Crimewave Edition
Perfect Dark
Perfect Dark Zero
Phoenix Point
Phogs!
Pillars of Eternity
Psychonauts
Planet Coaster: Console Edition
PlayerUnknown's Battlegrounds
Prey
Project Wingman
Psychonauts 2
Power Rangers: Battle for the Grid
Quake Remastered
Quake II
Quake III: Arena
Quantum Break
Rage
Rage 2
Rainbow Six Siege
Raji: An Ancient Epic
Rare Replay
Recompile
ReCore Definitive Edition
Red Dead Online
Remnant: From the Ashes
Resident Evil 7 Biohazard
Resident Evil Village
River City Girls
Rocket League
Rush: A DisneyPixar Adventure
Ryse: Son of Rome
Sable
Scarlet Nexus
ScourgeBringer
Sea of Thieves
Secret Neighbor
Shadow Warrior 2
Shenmue 1 and 2
Skate
Skate 2
Skatebird
Skyrim (The Elder Scrolls V) - Special Edition
Slay The Spire
Slime Rancher
Sniper Elite 4
Soulcalibur VI
Spiritfarer
Stardew Valley
Star Renegades
State of Decay: Year-One
State of Decay 2
State of Decay 2: Heartland
Stellaris
Streets of Rage 4
Streets of Rogue
Steep
Subnautica
Subnautica: Below Zero
Sunset Overdrive
Super Lucky's Tale
Superhot: Mind Control Delete
Superliminal
Supraland (added October 22nd, 2020)
Surviving Mars
Surgeon Simulator 2
Tacoma
Tainted Grail: Conquest
Tales of Vesperia: Definitive Edition
Tell Me Why - Chapter 1
Tell Me Why - Chapter 2
Tell Me Why - Chapter 3
Terraria
Tetris Effect: Connected
The Anacrusis
The Ascent
The Dark Pictures Anthology: Man of Medan
The Elder Scrolls III: Morrowind
The Elder Scrolls IV: Oblivion
The Elder Scrolls V: Skyrim Special Edition
The Elder Scrolls Online: Tamriel Unlimited
The Escapists 2
The Evil Within
The Evil Within 2
The Gardens Between
The Gunk
The Little Acre
The Long Dark
The Medium
The Messenger
The Outer Worlds
The Surge 2
The Walking Dead: The Complete First Season
The Walking Dead: The Complete Second Season
The Walking Dead: Michonne
The Walking Dead: A New Frontier
The Wild at Heart
theHunter: Call of The Wild
Thimbleweed Park
Thronebreaker
Torchlight III
Totally Accurate Battle Simulator
Totally Reliable Delivery Service
Touhou Luna Nights
The Touryst
Trailmakers
Train Sim World 2
Tropico 6
Twelve Minutes
Two Point Hospital
UFC 4
UnderMine
Unruly Heroes
Unsighted
Unto The End
Vambrace: Cold Soul
Viva Pinata
Vita Pinata: Trouble in Paradise
Void Bastards
Wandersong
Wargroove
Warhammer: Vermintide 2
Wasteland Remastered
Wasteland 2: Director's Cut
Wasteland 3
We Happy Few
What Remains of Edith Finch
Wilmot's Warehouse
Wolfenstein II: The New Colossus
Wolfenstein: The New Order
Wolfenstein: The Old Blood
Wolfenstein: Youngblood
World War Z
Worms W.M.D.
Xeno Crisis
Yakuza Kiwami 2
Yakuza: Like a Dragon
Yes, Your Grace
Yooka-Laylee and the Impossible Lair
Zoo Tycoon Ultimate Animal Collection
¿Qué es Xbox Game Pass?¿Cómo funciona?¿Cuánto cuesta?
En mayo de 2017 Microsoft anunció que desde el 1 de junio comenzaba a estar disponible el sistema de suscripción de juegos Xbox Game Pass, que incluye decenas de juegos de Xbox One y Xbox 360 a cambio del pago de una cuota mensual de 9,99€. Este servicio es totalmente independiente de la suscripción de juego online de Microsoft, Xbox Live Gold.
Con Xbox Game Pass los jugadores tienen acceso a un catálogo inicial de más de 100 juegos de Xbox One y Xbox 360, de los cuáles 40 pertenecen a la actual consola de Microsoft. La compañía ha anunciado que una vez lanzado el servicio de suscripción se irán añadiendo 5 juegos al mes al catálogo de Xbox Game Pass (algunos juegos irán saliendo del servicio).
Los juegos se descargan directamente a la consola y están disponibles para jugar siempre que se mantenga una suscripción activa a Xbox Game Pass. Por lo tanto el servicio no es en streaming, como sucede con PS Now, el servicio de suscripción de juegos de PlayStation. Los suscriptores de Xbox Game Pass además obtienen un descuento del 20 % en las compras juegos de Xbox One y un 10 % en todos los complementos.
¿Cuántos suscriptores tiene Xbox Game Pass actualmente?
Nadie puede negar que el servicio de Microsoft tiene consigo grandes oportunidades para los jugadores, ofreciendo una amplia variedad de juegos que poder sumar al catálogo y disfrutar desde un primer instante. Pero no nos llegábamos a hacer una idea de su éxito hasta que Satya Nadella, director ejecutivo de Microsoft, ha compartido el informe de resultados financieros del trimestre de Xbox.
En este refleja no solo que Xbox Live Gold ha llegado a los 90 millones de suscritos activos al mes, sino que además se han alcanzado más de 10 millones de suscripciones en Xbox Game Pass. Unas cifras que, mencionan, pueden venir reflejadas ante la decisión de las personas de conectarse con el mundo mediante los videojuegos.
Estos buenos resultados animan a la compañía a seguir ofreciendo contenido exclusivo first y third party para atraer a los jugadores y, sobre todo, mantener a aquellos que han decidido confiar en su servicio. Y aunque estas buenas noticias no se reflejan en el hardware, eso no hace que la compañía pierda el buen ánimo para seguir avanzando.
Noticias relacionadas